Freedom of Form in Architectural Metal Systems
Aussie Roofing offers Berridge Metal Roofing Systems which specializes in research and development of new architectural sheet metal products. In 1984, Berridge revolutionized the architectural metal panel industry with the introduction of the Model SS-14 Portable Roll Former. This unique machine is designed to not only roll continuous length straight standing seam panels but also curved. Today, over 10 different panels may be formed on-site using Berridge Portable Roll Formers.
The unique Berridge Total Program, which includes a full range of precision tolerance portable roll forming machines, painted coil and flat sheet, twenty-nine different factory products, all backed by technical and marketing support, has placed Berridge in the forefront of the architectural metal panel industry leading the way for standing seam metal roof sales.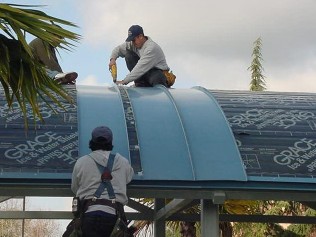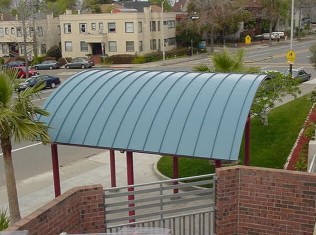 Above are photos of the front entrance cover for the Willard Middle School in Berkeley, California, constructed by Aussie Roofing in 2006, with Berridge Metal Standing Seam Roof.
Berridge exclusive on-site fabrication technology provides:
Custom Contoured Panels
Curved Barrel Vault Panels
Tapered Panels
Compound Curved Panels
Long Length Panels
In response to market demand, Berridge Manufacturing Company has developed historic reconstruction building products for restoration of historical buildings. See our Berridge Metal Roof Types Web page for more details on Victorian metal tile roof shingles, wood grain or stucco embossed texture, and the vast variety of metal roofing and wall panels developed by Berridge. A complete line of residential roofing and siding products round out their product line, giving Berridge the most comprehensive line of architectural metal products in the industry.
The economical Berridge Tee-Panel, with its Patented Vinyl Weatherseal Snap-On Seam is one of the most popular Berridge Standing Seam roof panels. When formed on-site with the SS-14 Portable Roll Former, Tee-Panel has no endlaps. Precision roll formed on-site for a perfect fit with the Berridge Portable Roll Former, Curved Tee-Panels are both extremely economical and strikingly attractive. The smooth, continuous curved barrel vault panels are perfect for roofs, covered walkways and fascia systems.
The Berridge Zee-Lock Standing Seam Roof System, with its 2-inch high leg, Patented Vinyl Weatherseal and machine-seamed sidelap, is the ideal choice for large, low-profile roofs over either open framing or solid substrate. Berridge Zee-Lock can be curved to a minimum radius of 20-feet using the Berridge Curver machine. Both roll forming and curving of the panel may be done on-site.
Placing Metal Roof Over Existing Roof
The Berridge VANTAGE POINT reroofing system attaches over an existing flat built-up roof, providing a new, slooped roof that will last for years to come. Learn more about a flat roof home makeover...
...Learn more about color choices for metal roofing at Berridge Colors