In 2002, we completed our largest project so far, by reroofing and installing new gutters to this condo complex in Mill Valley. We do condominiums & townhouses, along with apartment building inspections for roof repair and replacement. We understand the top issues for homeowner associations. With our experience, we would like to work with your condominium homeowners association in accomplishing such a large task.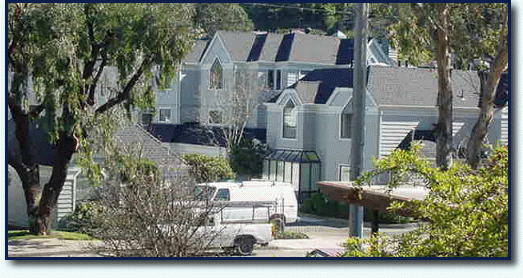 Notice the multiple angles of this complicated structure. This complex (Portsmith Square) contains 50 condo units; was reroofed in an expedient manner; and is located at the corner of Ashford Avenue and Lomita Drive, Mill Valley, California.
Aussie Roofing...
is fully licensed, insured and bonded to work with condo associations
has condo liability insurance coverage
is labor and materials warranteed
is experienced in working with condo-type homeowners associations
will help you reach the goals of homeowners associations.
For individual quotes complete our Roofing Estimate Form today.


Portsmith Square (Roof & Gutters)
119 Ashford Avenue
Mill Valley, CA
Contact: Bart Howard (415) 819-7644
Bohan Company Property Management
Click on the following thumbnail images of Portsmith Square to see the larger image: